John Zgourides
Attorney at Law
The Woodlands, Texas



(832) 299-5051


Board-certified trial lawyer with over 25 years of jury trials. Native Houstonian and University of Texas graduate.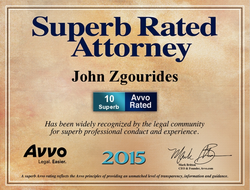 John is rated
10 -- Superb
by
Avvo
, the leading online legal services marketplace (click on image).
---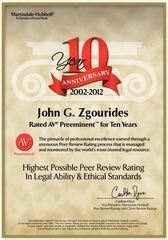 Since 2002, John has been Peer Review Rated at the highest level,
AV Preeminent®
(
AV, 5.0 out of 5.0
) by Martindale Hubbell Legal Directory and lawyers.com (click on image). John's AV 5.0
peer review
results from interviews with lawyers and judges who have worked with and against John. John's Client Review Rating is also 5.0 out of 5.0.
---

John is Board Certified in Personal Injury Trial Law by the Texas Board of Legal Specialization (click on image). He helps people and businesses after catastrophic events, and helps people and businesses with insurance coverage disputes. John was again re-certified in 2014.

---

John has been licensed as a Texas attorney since 1990 (click on image). He has a spotless discplinary record.

---